This post contains affiliate links. Affiliate disclosure: As an Amazon Associate, we may earn commissions from qualifying purchases from Amazon.com and other Amazon websites.
This article showcases our top picks for the Best Coffee Machine For Home. We reached out to industry leaders and experts who have contributed the suggestions within this article (they have been credited for their contributions below).
We are keen to hear your feedback on all of our content and our comment section is a moderated space to express your thoughts and feelings related (or not) to this article This list is in no particular order.
This product was recommended by Steve Warren from Maps Over Coffee
You can have coffee house level results right at home without a full sized espresso machine. The Nespresso Citiz is the simplest way to have a delicious espresso within a couple of minutes. One sip of the quality from this machine will prove that DeLonghi has stepped up the coffee pod game. With the press of a button, you will have a creamy, authentic espresso. Two buttons at the top determine a single shot or a double. Add steamed milk with the Aeroccino attachment for a latte or cappuccino, hot water for an Americano, or just enjoy it unadulterated and smooth. If you want convenience without sacrificing quality, this is the coffee machine for you.
---
This product was recommended by Daniel Walsh from Smart Home Perfected
The Hamilton smart coffee machine is voice-controlled by Alexa, so when you wake up in the morning you can say Alexa turn on my coffee maker to get brewing! You can ask Alexa to set the brew strength, depending on how you're feeling! With the Alexa integration, you can program schedules for the machine to turn on and off at specific times. It's also really easy to use Alexa routines to tie smart devices together. For example; you can have the coffee machine automatically turn off when you leave your home. You can tie in a simple motion sensor, so when you get out of bed, the machine can start brewing. You can have Alexa reduce the coffee strength if you have a cup in the afternoon. This filter coffee machine makes up to 12 cups, so no pods necessary.
---
This product was recommended by Alice from Alice's Kitchen
The Calphalon Espresso Machine is a high-quality, no-fuss coffee machine for busy households – it offers a tasty brew with pre-programmed single and double shots. The steam wand is a great addition for creating lattes and cappuccinos for anyone looking for a milkier morning coffee.
---
This product was recommended by Martin Stein from Orca Communications
With its naturally more chocolatey taste, cold brew coffee is increasingly popular but no one enjoys waiting the 12 to a full 24 hours for their refreshing drink. The breakthrough Vinci Express Cold Brew, with its patented Circle Flow Brewing Technology, makes fully extracted cold brew in as little as 5 minutes! It works with the coarse ground coffee you already have at home and your own filtered water, giving you a choice of four brew strengths, from light (5 minutes) to extra bold (25 minutes). When it's done, the whole carafe fits easily in your fridge door.
---
This product was recommended by Jason Decker from Nitro Tapp
Our home Nitro Coffee Maker is the best coffee machine for home. It's small, stylish & will step up any Kitchen Aesthetics. Nitro infused coffee has gained rapid popularity recently due to its smooth, creamy, delicious taste & health benefits. Without the need for cream, milk or sugar, nitro coffee is the healthiest way to drink coffee & is keto friendly.
---
This product was recommended by Thomas Fultz from Coffeeble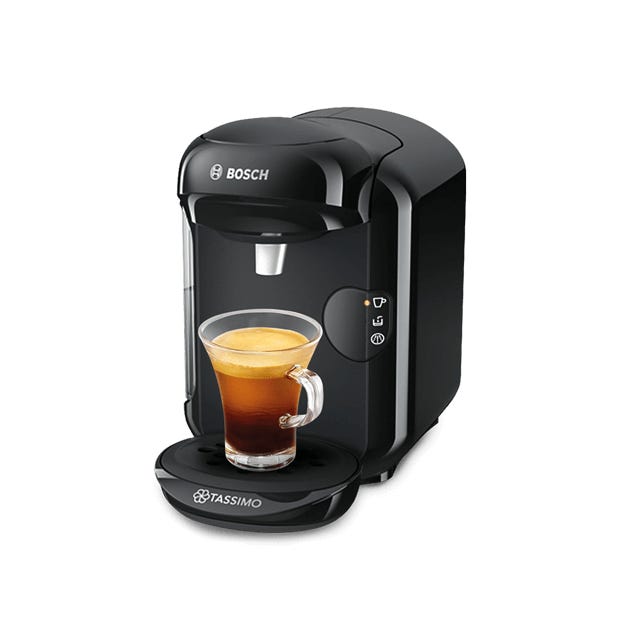 The Tassimo Vivy 2 is the ultimate coffee machine for the modern family, or the busy worker, even if they are working from home. With the amount of choices you have for pods, you can make yourself a truly unique coffee with the touch of a button. It is very easy to use, and can even be used for other beverages such as teas and hot chocolates. It can be fun for the whole family, and the pods are very cheap and easy to come by, being able to buy them bulk to save yourself some money in the long term. It is very good in price, and with some many options there is no need for a more traditional coffee machine.
---
This product was recommended by Ori Benshalom from smarthomemuse
A smart coffee maker is great: 1) It can take voice commands (Alexa in this case) Alexa start a brew Alexa make my coffee stronger 2) Saves time- You can create routines, where you will get your coffe ready at set days and times. The Hamilton Beach 2 can serve up 12 cup per single serve, Can brew directly into the carafe/travel mug/ short cup and have brew strength selector (regular or bold).
---
This product was recommended by Bryan Collins from Become a Writer Today
My personal experience says that there are two types of espresso drinkers – ones that don't care where their cuppa comes from as long as it's well made and served quickly; another that wants an affordable and reliable espresso machine to make good coffee at home. If you fall in the latter group then the Breville BES870XL is a dream come true.
---
This product was recommended by Tommy Gallagher from Top Mobile Banks
This great coffee maker is relatively inexpensive, programmable and makes really tasty coffee. It is quick and simple to use and you can customize it to make a variety of different coffees just the way you like them.
---
This product was recommended by Tommy Gallagher from Top Mobile Banks
This easy-to-use and convenient pod machine makes all types and sizes of great-tasting coffees and is nice and compact as well as being relatively portable.
---
This product was recommended by Tommy Gallagher from Top Mobile Banks
This pocket-size coffee machine is great for at home or for if you actually more on the move than at home. It doesn't even take batteries. It uses a hand-pump system to make tasty coffee that is just as nice as it'd bigger family members.
---
This product was recommended by Tanya Taylor from Travels & Treasures
Looking for great tasting, hot cup of coffee, the Hamilton Beach FlexBrew Coffee Maker is one of the best on the market. The single serve K-cup pod allows you to brew any brand of ground coffee and it's flexible enough for you to pop in a K-cup. For single servings, select a regular cup size or travel mug. Wake up to the wonderful smell of roasted beans using the built-in programming features. Be ready in no time to serve company using the 12cup carafe. The unit is chic and looks modern and you can control the brew strength. There's no need to hassle with coffee filters or liners. The permanent filter will save you time and money.
---