This post contains affiliate links. Affiliate disclosure: As an Amazon Associate, we may earn commissions from qualifying purchases from Amazon.com and other Amazon websites.
With summer fast approaching, Brits are looking forward to festivities that the sunshine and warm weather offer. Worry-free afternoons in the blazing heat, fuelled with a refreshing cocktail, great company and a fantastic feast – is a motivating factor for many working adults.
And yet, the 'perfect' picnic hamper is tailored to those who love to spend the cash, meaning many are unable to justify the cost of splashing out on the summer picnic we always hoped for. Until now.
Garden furniture specialist Farawayfurniture.com has created a guide to the perfect picnic hamper for those on a smaller budget. The tips provided mean that enjoying lunch among the wildlife need no longer be a pipe dream and can be achieved by spending less than £25*.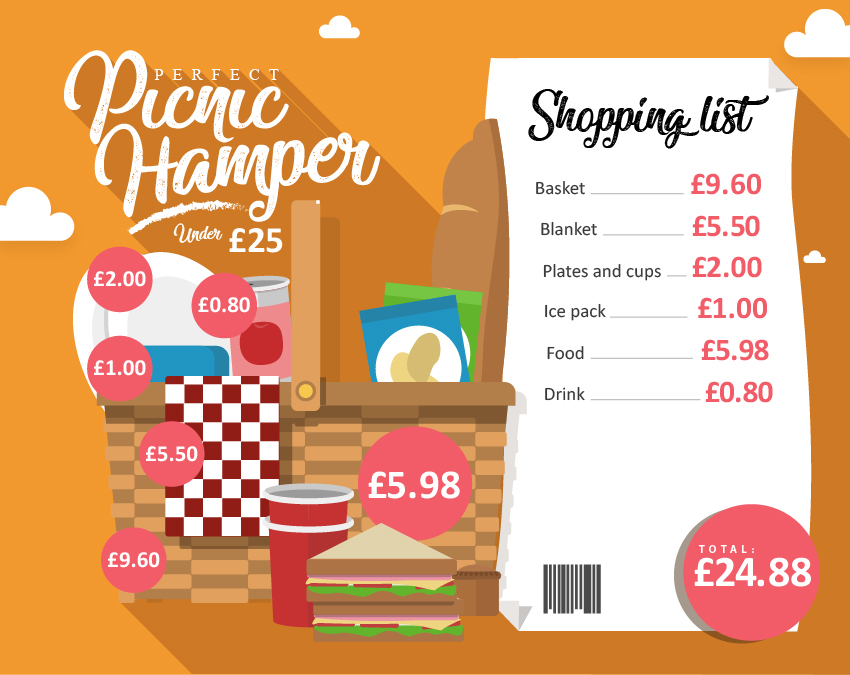 £25 Picnic Hamper Checklist
1.Basket
Online marketplaces are great for cheap storage boxes that can double up as picnic baskets.
Top tip: For value for money, opt for practicality over aesthetics – rectangular storage baskets are your best bet.
Average Price Spent: £9.60
2.Crockery
Part of the appeal of a picnic is the ability to re-use products for years to come. Plastic, melamine or bamboo dining ware that are cheap but high in quality are perfect for picnics. They're usually lightweight too, reducing the overall weight of your hamper.
Top tip: A matching set may look great and easier to acquire, but they aren't always the cheaper option. Mix and match and you may find yourself saving some money; not to mention rocking a quirky, eclectic vibe. Go one up and mix and match with other household items you already own!
Average Price Spent: £2
3. Blanket
It's wonderful to be at one with the environment, but you don't want a sodden bottom or dirty jeans – a blanket comes in handy to sit and arrange your banquet on.
Top tip: It's important to search for blankets that tick all the boxes – large enough, waterproof, easy cleaning, etc. But even better, why not choose one made of recycled materials, and play your part in our planet's sustainability. You can find blankets made of recycled cotton and other materials for just over £5.
Average Price Spent: £5.50.
4. Ice pack/Cooler
While you'll look the part with this equipment, your hamper needs to be practical in the summer heat in order to keep your food and drinks cool. A simple ice pack will do the trick and can be cheaply found in most supermarkets and homeware shops.
Top tip: When packing your picnic hamper, ensure perishables are packed closest to ice packs/coolers to protect them. Also, ensure that you pack your hamper full – chilled foods will stay cool the longest this way, and you may be able to squeeze more in and get the most value for money.
Average Price Spent: £1
5. Food and drink
The main event of the picnic – some delicious food. While many look for fanciful recipes which cost an arm and a leg for ingredients you'll use once and then throw away, a few homemade delicacies and cheap bought snacks can work out just as, if not more satisfying. Priced for two people, a full meal can be acquired by spending as little as £6.78/or £3.39 each*:
Sandwiches – £1.98
Crisps – £1.50
Pork pies/Vegetarian pies – £1
Cupcakes – £1.50
Lemonade – £0.80
Average Price Spent: £6.78 for 2; £3.39 each
Total Picnic Hamper Spend: £24.88
*All prices have been gathered through general research to attain the cheapest average price per product. Prices were compared across 10 popular supermarkets/department stores/marketplaces. Hence, prices listed are approximated and indicative of prices extracted on 13/06/19.
*Where appropriate, food and drink prices have been manually calculated based on average prices per ingredient from popular UK supermarkets, then calculated for average cost per serving. Hence, and generally, prices listed are approximated only and indicative of prices extracted on 13/06/19.